ROOMS
All rates include a full homemade breakfast at our Hood River B&B. WE ARE OPEN SEASONALLY – FROM MID-MAY TO MID-SEPTEMBER. A 9.8% Hood River room tax will be added to all rates. Contact us to check your dates.
Blue Room

THE BLUE ROOM has a queen bed and a wonderful view of the Columbia River and snow capped Mt. Hood. The bathroom is shared and just across the hall. Another bathroom is directly downstairs.
RATES:from $133 Single, $143 Double.

Green Room

THE GREEN ROOM is bright and large and also has a queen bed and two twin beds. It can easily accommodate two, three or four guests. The bathroom is across the hall, and another bathroom is just downstairs.
RATES:$133 single, $143 Double, $160 Triple, $165 Quad.

Cottage Room

THE COTTAGE ROOM is very quiet and private. It is just removed from the main house, has a queen bed, a set of bunk beds. This room has a private bathroom, entrance, TV, and is also the perfect family friendly room as it provides a bit more privacy.
RATES:$138 Single, $148 Double, $165 Triple, $170 Quad.

Bunkroom

THE BUNKROOM is a great economical option for those looking to save a few bucks. You can book one bunk or all four.
RATES:$68 Per guest. $130 for two, $160 for Three, $165 for four.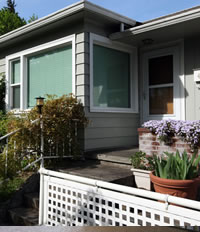 NEED MORE SPACE? THE GORGEVIEW DUPLEX is our two-bedroom apartment next door.
This licensed unit-195, is a nice group or family option for those that want to have the freedom of a full kitchen, living room, laundry, and private space all within walking distance to downtown. It has two bedrooms, a queen bed in one bedroom and two twins in the other, we also have a crib and roll-away available.
The duplex offers a living room with a view of the river, a full kitchen with eating area, a garage for gear storage and an outdoor BBQ and eating area. This is a weekly rental so it is available on a 7 night, Saturday-to-Saturday schedule.
RATES:$1025 a week, (or $170per night, if available, 3 night minimum.)